Inside Out in Kalamazoo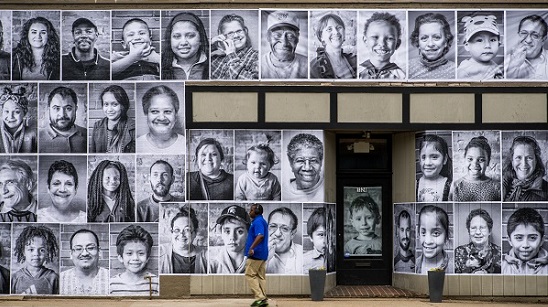 On March 2, 2011, JR won the TED prize at the TED Conference in Long Beach, California, and called for the creation of a global participatory art project. Inspired by JR's large‐format street "pastings", INSIDE OUT gives everyone the opportunity to share their portrait and make a statement for what they stand for. Each INSIDE OUT group action around the world is documented, archived and exhibited online. Over 260,000 people have participated in 129 countries.
The Kalamazoo County Land Bank along with photographer and neighborhood resident Fran Dwight have brought this project to Kalamazoo's diverse Edison Neighborhood in 2017 in an attempt to foster and deepen community connectedness by installing large scale portraits of neighborhood residents in highly visible public spaces. This project has simultaneously added beauty to the neighborhood and represented the array of individuals living there. This is a more public and visible way to showcase the beauty that exists here through the variety of ages, cultures and styles represented, and facilitate a collective neighborhood identity. The process supports actively and symbolically taking ownership and pride in being a resident of Edison and compliments other existing neighborhood-based arts and culture work.
Photographer (and Edison resident) Fran Dwight along with Land Bank LISC Americorps Land Bank staff member Anna Roeder worked to take photographs of residents interested in having their portrait featured. These images were collected and curated into a group of chosen photos that were posted onto a vacant building (the former Kalamazoo Color Lab print shop) with a blighted facade that was recently acquired by the KCLB. This project was unveiled at a community art event on August 4, with immense interest from the media and general acclaim from residents and non-residents alike. See below for articles published in local media, with more photos of the Inside Out installation.
Portraits of residents put a face on emerging Edison Neighborhood
Major art project being installed in Kalamazoo's Edison Neighborhood
Photo Art Project Shows Faces Of Edison Neighborhood
Outdoor cafe planned at vacant brownfield site on Kalamazoo north side
We Are Edison: Portraits of the people of Edison Neighborhood show community pride