Main Street Impact in Benzie County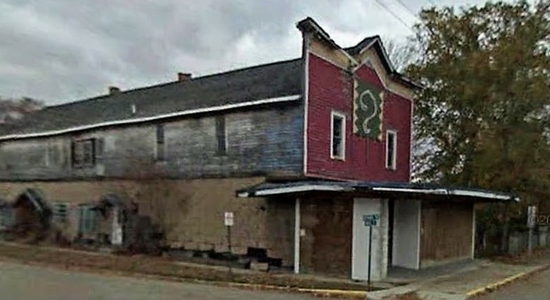 Leveraging Partnerships for Main Street Impact
Driving on US-31 through northwest lower Michigan, the "Question Mark" building was an unmistakable landmark for residents and businesses alike in the heart of downtown Honor, MI. Adapted in the early 1990s, the two-story commercial building served as an artist community space called the "Wonderland" and its then-occupants erected the recognizable 12-foot question mark sign on the front of the building. Eventually the artist collective left the space and the building remained vacant for the next 20 plus years, each year resulting in further dilapidation and disrepair. This blighted commercial building, centered on Honor's main street, served as a hulking eyesore for decades, finally falling into tax foreclosure in 2014.
Despite the clear need to address the blighted, vacant structure, resources at the local-level were limited. The Village of Honor has a population just over 300 and is situated in Benzie County, geographically the smallest county in Michigan. Recognizing the huge impact the building has on Honor, the Benzie County Land Bank Authority (BCLBA) stepped in to partner with the Village to finally address the building. The land bank purchased the property from the County Treasurer for the back taxes due. The Land Bank then issued a request for proposals for the property, however, no parties responded. Given the Village of Honor's desire to see the derelict structure torn down, the land bank proceeded to contract the demolition of the property. Prior to the building being demolished, the land bank also partnered with a local salvage crew to reclaim lumber and other artifacts from the property. As a result of the partnership with the Benzie County Land Bank Authority and after more than two decades, visitors and local residents can drive down US-31 and see a clean, grassy lot, primed for redevelopment where a blighted commercial eyesore once stood.
For more information about the Benzie County Land Bank Authority's work on the "Question Mark" building, click here or contact Michelle Thompson, Benzie County Land Bank Authority's Board Chair.