Rehabbed and Ready in Detroit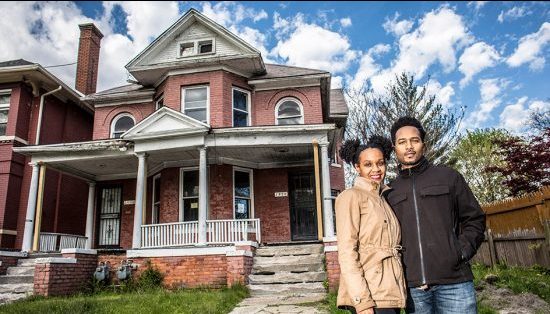 DETROIT—For the past year, Clement Wright has driven into the Marygrove neighborhood before and after his night shifts at Chrysler to reclaim a small piece of the city where he has spent his whole life. While his friends texted him sunny vacation pictures from the Florida Keys, Wright, 62, spent much of his non-working life tearing down walls, laying bricks, installing electrical outlets, sanding, tiling, nailing, molding and painting.
"When I got it, it was devastated," says Wright, standing near a shop vacuum and a roll of pink insulation in his three-bedroom, brick colonial built in 1950. Dozens of houses like it had gone vacant in this tightly-packed middle-class neighborhood near Detroit's Marygrove College. "The house had been sitting seven years. It had holes in the walls. The electrical was missing. The water tank was missing."
For $17,900, Wright, a tool-and-die analyst and a landlord of eight other Detroit properties, bought the house in May 2016 from the Detroit Land Bank Authority. He has put $40,000 of work into it: new walls, a new second-floor ceiling, a new kitchen. Out front, the house's façade was bulging. So Wright took down the bricks, then mortared them back into place. The land bank, which is holding the deed in escrow until Wright finishes the house, checks on his progress every 30 days. All he's got left to do is lay some hardwood flooring downstairs and paint some rooms. Then he'll move in with his dogs, Macabee, a shepherd-pit bull mix, and Beauty, his pregnant Rottweiler.
"They've given people like me, the ordinary Joe, the opportunity to buy a house on the low side," says Wright, "and fix it up the way they want it, as long as you bring it up to 21st century code." He'd do it again, but Marygrove is a target of the city government's revival efforts. "There are vacant homes around me," he says. "I try to investigate them, but they're all taken."
Wright is one of 2,000 people who have bought houses from Detroit's land bank since 2014. The land bank is one of the boldest—and also most controversial—aspects of Mayor Mike Duggan's administration, which is drawing intense national attention as Duggan struggles to bring his city back after its emergence from bankruptcy. Repairing Detroit's fiscal collapse depends in large part on reversing the city's physical decline.
Read the full story at Politico
Photo credit: Politico